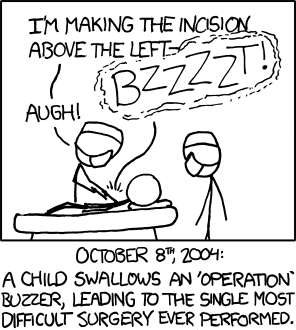 via xkcd
I have a friend who's about to go in for laparoscopic (also known as "keyhole") surgery, so I thought I'd share some tips from my experience.
For those who have never heard of a laparoscopy before - it's where a small camera (called a laparoscope) is inserted through a small incision in your navel to see the inside of the abdomen. More small incisions are needed to allow the surgeon to use tools to remove the endometriosis. I only had two incisions during my surgery - one in my naval and one where my jeans' button sits. The abdomen is also inflated with gas (carbon dioxide or nitrous oxide) during the surgery to separate the abdominal wall from the organs and allow the surgeon a clearer view.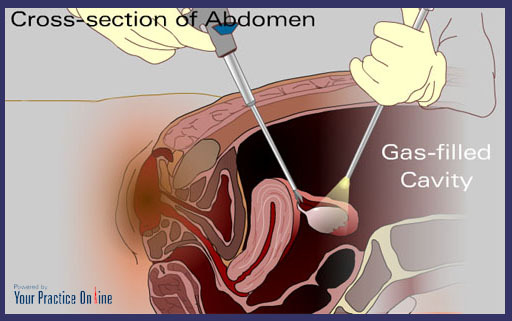 Cross section of the body during laparoscopy
So what's the point?
Laparoscopy is currently the only definitive way to diagnose endometriosis. Some doctors may claim that a clear pelvic ultrasound can rule out endometriosis but it is not true (
it happened to me
). Laparoscopy is also one of the main treatments for endometriosis, with ablation (burning) or excision (cutting) of the endometriosis conducted during the procedure.
*Note: Do no search google images with the word laparoscopy if you are faint hearted. You have been warned...*
How to prepare
Give your workplace as much notice of the procedure as possible. I only found out the date of my operation two weeks before it, but I had let work know that I was on the waiting list for the operation, so they knew it was coming up.
Go on the Pill for a few months before surgery if you can. If you are going to have a Mirena inserted, its best to go on the Pill for a few months before to thin your uterine lining. I didn't, and I bled for about 2.5 months straight after my operation
Read about surgery on blogs like this. Don't read so much as to stress yourself out, but read enough to know what to expect so you aren't shocked. (I wish I'd known about these blogs before my operation)

Find out if your hospital has a

gynaecological

triage

that you can access 24/7, just in case you start vomiting after the op (this would've been of incredible use to me).
What to take to the hospital
An overnight/maternity pad. You will most likely bleed (although I didn't bleed very much for the first couple of days) and the gauze the hospital gives you is not adequate if you are moving around (ie from the hospital bed to your car)
Loose, clean clothing

to put on after the operation. You're going to feel pretty gross, so you might as well be clean! I recommend a low, loose waisted jersey or floaty material skirt with a loose tshirt. You won't be able to stand up straight after the operation so take that into account when choosing your clothes.

A

family member/friend

for support if possible. If you have someone that can wait with you and meet you when you come out of the operation, that is optimal, but basically get as much help as you can get. It's nice to have someone there.

Something to entertain and relax

you

while you're waiting to get called in to the operation. A book and an ipod are a good idea, depending on what your hospital allows you to bring into pre-op.
If this is your first operation, make sure you tell the anaesthetist to make a cocktail that won't make you nauseous. You don't want to vomit on a stitched up stomach.
This is the skirt I wore (waistband was nice and loose), with a looser t-shirt. Image via etsy
What to expect after the operation
Your stomach is going to hurt, and it will be hard to walk. I was wheeled out of the hospital in a wheelchair - if you can wrangle this I highly recommend it!
I was strangely devoid of pain for the first twenty minutes or so that I was awake. Then it hit me, and was not very pleasant at all. I found it hard to communicate to the nurses that I needed more pain relief, so I just freaked out all the other day surgery kids with my moaning.
You may get shoulder pain from the gas that they put into your abdomen. In my experience, it's not too bad, and goes away after a few days. Hot water bottles are great for this.
I cried myself into a big blubbery mess when I was first coming out from anaesthetic, but I didn't care. You probably won't either if you do.
I was quite peppy the first night when I got home (I think it was the icy pole my nurse gave me). The next two days were the worst - I was vomiting for the first three days and it only stopped when we went to the hospital and got me put on a drip with anti-nausea medication. I was also pretty nauseous for the first couple of months afterwards.
You aren't really going to feel like eating - well you will, you'll be really hungry, but you might not be able to keep it down.
It's going to take your guts a few days to wake up from the general anaesthetic - take this into account when you eat, even if you aren't nauseous. Go for bland, easy to digest foods.
If you have someone there, have them talk to your surgeon after you have been operated on if possible. They tried to tell me about the extent of my condition while I was coming out from under anaesthetic and I hardly remember anything.
Tips for recovery:
Ice blocks are your best friend

, and after that, pre-made chicken soup. Don't count on being able to cook for yourself for awhile.

Take it easy on the codeine/other opiods if you don't know what your sensitivity to them is

- you'll either end up majorly constipated and/or vomiting. Trust me.

Don't plan anything major for the next couple of months. In total, I had two and a half weeks off work. You may need more or less, depending on your operation, but make sure you have the flexibility to cope with either. (ie don't plan a holiday a month after your op).

You won't have much energy for the first few days at least, most likely more.

Book an appointment with your gynecologist for a week after the operation (or less). My gynecologist booked my follow up appointment for 6 weeks after my operation, but I needed to see a doctor just two days after my operation. I ended up going to a few emergency gynecologists because of small complications.
*Disclaimer: There can be some extreme, but rare, complications that come with a laparoscopy, as with any surgery. Make sure that you talk to your doctor about all the potential outcomes. (I don't have the expertise to advise in that area...). Also, no two surgeries are the same - these tips are from my experience, hopefully you don't get as nauseous as I did!
Click after the jump to see my scars 8 months on. (I was always curious as to how the scars faded after my surgery)
_________________________________________________________________________________
This month I will be taking part in National Health Blog Post Month. Check back every day to see the new topic and learn more about endometriosis. Today's post is a bonus prompt - tips for the newly diagnosed.